Katherine: Owner & Queen Bee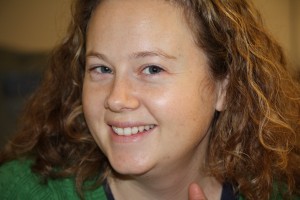 Katherine is the lady with the plan in the palm of her hand. If you want to know anything about what's happening at PS, chances are very strong that she can fill you in. From meeting with clients, quoting projects and scheduling to ordering materials and paying the bills, Katherine flat out gets it done. In her free time, she enjoys raising her 4 kids(ages 6 and under), serving in numerous capacities at Spring Hill Baptist Church and tapping on her iPhone. She attended Pfeiffer University in North Carolina and finished her Bachelor's degree in Human Services at Old Dominion University. As a leader at Spring Hill, she was on the launch team for Spring Hill Spotswood and served as chair of the Finance Committee.
Robbie: Business Development & Trophy Husband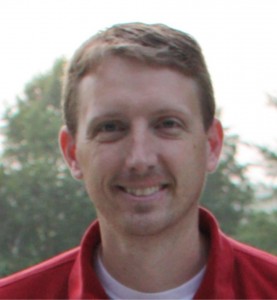 Robbie is always on the lookout for what's next. Whether it's a new client, new piece of equipment or new way of doing business. He thrives on looking ahead and applying what he learns to the benefit of PS's clients. Ironically(and most likely, moran-ically, if you asked his wife, Katherine) he can sometimes be the slowest to adapt to change. While still working at Performance Signs, he served as Managing Partner of Greene Development Company where he directly managed the nearly $8mil purchase, financing, approval and construction of Holly Hill, a 118 lot residential community. Robbie also served on the Board of the Greene County Economic Development Authority, is the current President of the Greene County Chamber of Commerce, is in the 2012 class of Leadership Charlottesville and is on the Board of Directors for the Virginia Sign Association. He is Little Mister Greene 1983 and is the founder of Performance Signs. When he's at home, he likes dancing in the kitchen with his kids and delivering earth rattling smoochies to their bellies.
Jon: Graphic Designer Extraordinaire & Printer Whisperer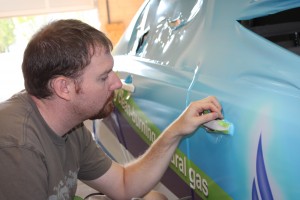 Or Johnny Jon as we like to call him, routinely takes the ideas cobbled together on little scraps of paper and transforms them in amazing graphics that put money in our clients' pockets. Between designs, he also keeps an array of plotters, printers and laminators humming right along as well as jumps in on the occasional install just to keep things interesting. When he's not shaming the rest of us at the shop with his mad skills, he likes to cuddle with his two young daughters and wife on the couch. Jon has a bachelor's degree in Industrial Design from James Madison University.
Darren: Install Master and Long Suffering Red Skins Fan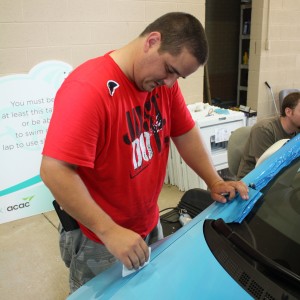 Or Big D to his buddies, installs. Everything. Seriously, just give him something that needs to be installed and I guarantee you he'll install it correctly with a minimal amount of audible expletives. From police cars to full van wraps, from jobsite signs to interior lobby logos, we've not yet found anything he can't install. Outside of PS, Big D is settling in to a new house, feeds hungry fish at nearby lakes(he calls it fishing) , plays guitar and watches the Red Skins lose. Sometimes in that exact order.
Sarah: Production Prodigy and Most Time Redhead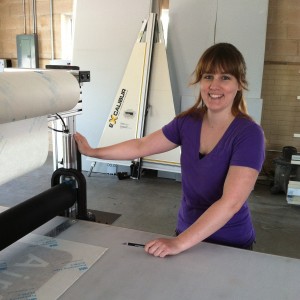 Sarah has mastered in a very short time what it would take normal mortals years to pick up. Since joining us in the Fall of 2010, she has gone from absolutely no experience to showing each and every sign she comes in contact with exactly who's boss – all without breaking a sweat or tarnishing her infectious, friendly attitude. Like Darren, she is also settling in to a new home where she enjoys reading and spending time with her man, dog and cat. Sarah also serves on the community council for 91.9 WNRN radio.
Heather: Fearless Front Office Phenom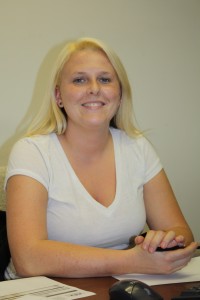 Heather keeps things in line and in order. Our multi-talented multi-tasker can answer the phone, enter a deposit, send an email and sip a refreshing beverage all at once without batting an eye.
Ken: Great Graphics Finisher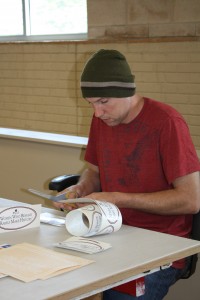 New to the sign business, Ken is getting his feet wet by finishing banners, decals and signs. Frequently called on to also help with decal removals and the occasional install, he's cool with contributing wherever he's needed.
Matt McCracken: Matt of all Trades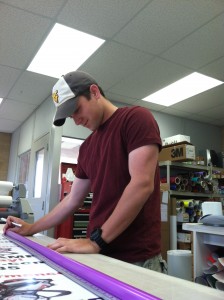 You might say he got "cracking" as soon as he walked through the door. After all, how many people have a television camera filming what they do on their third day on the job? Matt's quiet confidence is sure to be a great benefit to your team.